Pipeline

Nobelpharma committed to development of critical but neglected drugs in order to fulfill social mandate
We have constantly been aspiring to conduct research and development of drugs, that are not the prime targets for many pharmaceutical companies due to questionable economic viability with a small number of patients (drugs for unmet medical needs). Our development pipeline mainly includes the drugs such as orphan drugs (drugs for rare diseases) that have been strongly requested by patients, academic societies, or the government, as well as off-label drugs and pediatric medicines. The efficient research and development processes by our small but highly capable organization is what enables us to obtain approvals for such drugs with a comparatively small market size.
While we heretofore have engaged in the development of many unapproved drugs, that were already available in US and Europe but were not developed in Japan despite their significant need, we will also actively take on the challenges of research and development under new and different concepts.
Development Process of Nobelpharma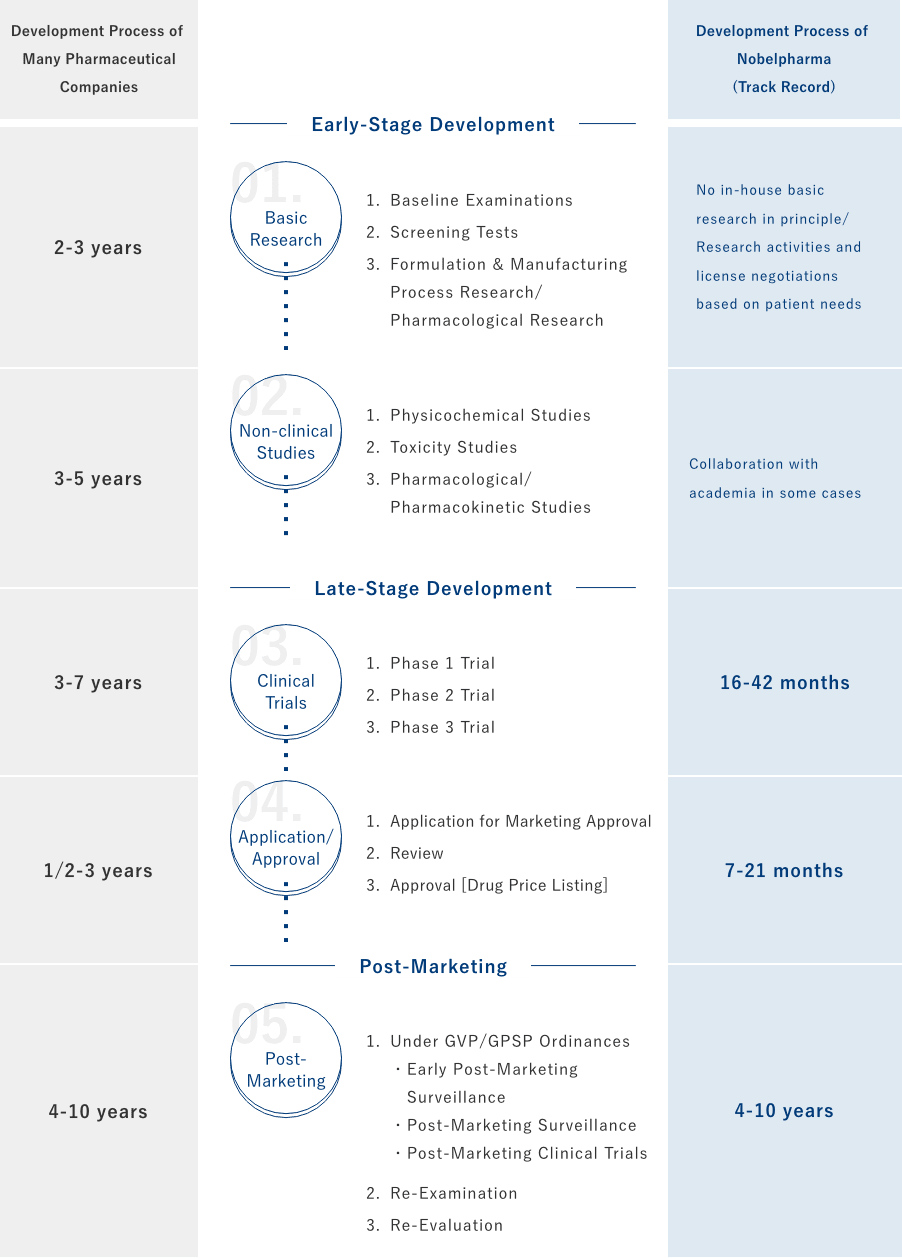 Future Development Projects
New Drugs/New Devices
Compound
Expected
Indication
Partner
Phase
Expected
Approval
NPC-09
N-acetylneuraminic acid
distal myopathy
in-house
P-II/III
-
NPC-21
CMV antibody
CMV infection
Evec
P-I
-
NPC-22
scopolamine
hypersalivation
Kitasato Univ
P-I
-
Life Cycle Management
Compound
Expected
Indication
Partner
Phase
Expected
Approval
NPC-02
Nobelzin
pediatric formulation
(new formualtion)
National Center for Child Health and Development
filed
Dec 2020
NPC-05
Unitalc
Nagoya Medical Center
Expected Approval: Jun 2022
Nagoya Medical Center
P-II
Jun 2022
NPC-06
Fostoin
neural field
(new indication)
Pfizer / in-house
P-II
-
NPC-12
Rapalimus
intractable vascular/lymphatic discorder
(new indication)
Gifu Univ
P-III
Jun 2021
NPC-12
Rapalimus
fibrodysplasia ossificans progressive
(new indication)
Kyoto Univ
P-II/III
Mar 2022
NPC-12
Rapalimus
Pendred syndrome
(new indication)
Keio Univ
P-I/IIa
Dec 2021
NPC-12
Rapalimus
epilepsy with focal cortical dysplasia type II
(new indication)
Showa Univ
P-II
-
NPC-12
Rapalimus
idiopathic multicentric Castleman disease
(new indication)
Nagasaki Univ
P-II
-
NPC-12G
Rapalimus Gel
neurofibromatosis type I
Osaka Univ / in-house
P-II/III
Sep 2022
Overseas Development
Compound
Expected
Indication
Partner
Phase
Expected MA
NPC-12G
topical silorimus
(Rapalimus Gel)
angiofibroma
-
US
filed
Dec 2020
CH
filed
Aug 2020
EU
filing
-
NPC-19
(NPC-SE36)
malaria vaccine
prevention of falciparum malaria
Osaka Univ
GHIT
P-Ib
-
NPC-18
bFGF(Retympa)
tympanic perforation
MEEI/Harvard Univ
P-II
-
NPC-17
thyroid cartilage fixation device
(TITANBRIDGE)
adductor spasmodic dysphonia
Nagoya City Univ
trial in preparation
-
Note: Indicagtions and Approval are merely the expectations.
Research and Development