Message from President & CEO

About Nobelpharma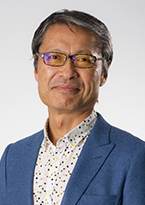 "Contribute to society by providing necessary but neglected pharmaceuticals and medical devices"
This is the Mission of Nobelpharma.
Sales and profits are, of course, important management indexes that should be pursued; however, we regard these as results of carrying out the Mission as well as a means to accomplish the Mission.
As of January 2015, we revised our former Mission, Policy, and Action Criteria.
Without modifying the fundamentals, the revisions were made to adapt to the changing situations, focusing on (1) globalization, (2) work-life balance, and (3) prevention of "big company disease" that would spread if off-guard.
Go to Philosophy
In 2009, the population in Japan took a downward turn. Japanese industry has left the growth stage and entered into the mature phase. The paradigm of following the example of the US to pursue economic growth and scale expansion came to an end, and the whole Japanese industry is now facing an era to create new markets by technological innovation.

Since the foundation of Nobelpharma in 2003, we have been developing medicines for unmet medical needs (*) based on our Mission. Thankfully, we obtained our first new drug approval (NDA) in 2008 and currently hold 13 NDA's. This is considered a great achievement in the pharmaceutical industry, and we are taking pride that we have actually been contributing to patients and healthcare professionals. However, most of these NDA's are in fact by licensing-in the US or EU approved products and we were surely at the growth stage then. As we enter into the next mature phase, we are to develop new medicines under new concepts. While we do not have our laboratory, we will evolve a business model of creating medicines out of the seeds of new drugs sought from academia.
For pharmaceutical companies, research and development, ensuring postmarketing safety, manufacturing, and sales are the 4 pillars. Among these 4 pillars, postmarketing safety is growing increasingly important. We will enhance our organizational structure that has yet to be further strengthened and will explore new ways and means. Having no manufacturing facilities of our own, we outsource our manufacturing processes. In order to ensure stable supplies, we will not only reinforce even closer partnership with our contractors but also try to secure multiple supply channels. For the pillar of sales, since we already have established the nationwide medical representative (MR) organization, we are moving forward to improve the quality of MR's as well as to look into some potential sales system besides MR's.
By fully acting up to the principle of our Action Criteria, "Give priority to the patient benefit if inconclusive," with the challenging spirits of "Yatte Minakucha Wakaranai, shikashi Songiri wo tamerauna (you never know unless you try, but do not hesitate to cut loss)" and "Zenrei ga nainara Yattemiru (if no precedence, try first)," Nobelpharma will continue to pursue our Mission.
Jin SHIOMURA, President & CEO


*

medicines the need of which is not addressed adequately despite strong requests from patients and physicians